Hickory Foundry precision hosiery stretch testing equipment is used by manufacturers worldwide to ensure their products provide proper fit. Our testing equipment is certified and recommended by the Hosiery Consortium of Hosiery Manufacturers. We also work with the Hickory, North Carolina based Manufacturing Solutions Center where customers can develop and test new hosiery products. Our products all have built in safety features to ensure proper use.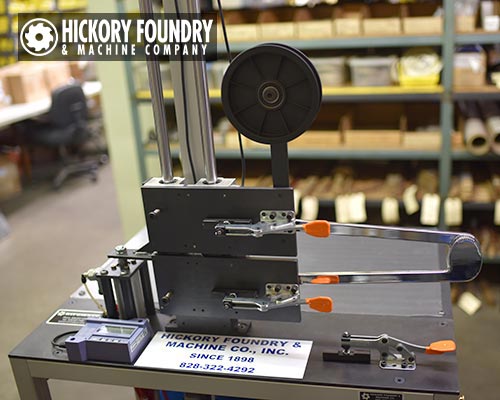 Stationary/Mobile Stretch Testing
Available in 24, 36, 48- or 60-inch stretch lengths.
Enables cross stretch and length stretch testing.
Precision pneumatic control system.
Easy to read Pro Scale Digital display.
Testing spring included for daily calibration verification.
Mobil unit includes plug in electric air compressor.
Hand Held Stretch Testing
Enables cross stretch testing anywhere.
Accurately measurers to one tenth of an inch.
Includes locking safety pin for safe operation.
Easy to maintain.